Modern office spaces for rent from 59 – 2'555 m² situated in Gland at the heart of the industrial area.
Route des Avouillons 6 – 16, 1196 Gland59 – 2'555m2
Info
Bright surfaces can be designed according to your wishes.
Your clients and guests will appreciate your location and be able to find you easily, as the building is situated just two minutes from the motorway and Gland railway station! Outdoor parking is also available on-site.
Have we sparked your interest? Please do not hesitate to contact us for more information or to arrange a viewing.
Overview free areas

Route des Avouillons 6
1'016 m², 1st floor
190.00 CHF s q pa net

Route des Avouillons 6
243 m², 2nd floor
185.00 CHF s q pa net

Route des Avouillons 6
140 m², 2nd floor
195.00 CCHF s q pa net

Route des Avouillons 6
140 m², 3rd floor
200.00 CHF s q pa net

Route des Avouillons 10
59 m², 2nd floor
200.00 CHF s q pa net

Route des Avouillons 14
520 m², 1st floor
190.00 CHF s q pa net

Route des Avouillons 16
147 m², ground floor
200.00 CHF s q pa net
Route des Avouillons 16
150 m², 1st floor
200.00 CHF s q pa net

Route des Avouillons 16
140 m², 3rd floor
200.00 CHF s q pa net

Facts
| | |
| --- | --- |
| Type: | Office space |
| Space: | 59 – 2'555 m² |
| Price: | from 185 CHF/sq m pa |
| Move in: | immediate |
| Fit out: | partially fitted out |
Route des Avouillons 10 · 90 m2
Route des Avouillons 10 · 90 m2
Route des Avouillons 6 · 1016 m2
Route des Avouillons 6 · 204 m2
Route des Avouillons 6 · 204 m2
Route des Avouillons 14 · 520 m2
Route des Avouillons 10 · 90 m2
Route des Avouillons 16 · 147 m2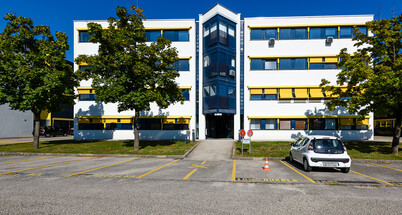 Route des Avouillons 16 · 147 m2
Route des Avouillons 14 · 520 m2
Route des Avouillons 14 · 520 m2
Route des Avouillons 10 · 90 m2
Route des Avouillons 16 · 147 m2
Route des Avouillons 6 · 204 m2
Route des Avouillons 16 · 147 m2
Route des Avouillons 16 · 528 m2
Route des Avouillons 14 · 520 m2
Route des Avouillons 6 · 204 m2